Check Yo'Self with Keep a Breast Foundation
Breast cancer is everywhere, and it devastates lives when not treated early enough. According to the American Cancer Society, about one in eight women will get breast cancer in their lifetimes. One of the first initiatives Versus Tires wanted to pursue was partnering with our friends at Keep a Breast Foundation. 
We wanted to know how Versus Tires could help spread awareness of breast cancer. The answer? We set a goal of raising $40,000 through an awesome and collaborative giveaway and donate it to assist in Keep a Breast's noble mission: to reduce breast cancer risk and its impact globally through art, education, prevention, and action.
KEEP A BREAST
The Keep a Breast Foundation is a 501 (c) (3) non-profit breast cancer organization founded by our friend Shaney Jo Darden. Keep A Breast's mission is to reduce breast cancer risk and its impact globally through art, education, prevention, and action.
Prevention is the cure. 
Only approximately 15% of breast cancer
diagnoses occur because of family history. Most diagnoses are attributed to aging, lifestyle, and environmental factors.
Download the free Keep a Breast App to learn when to check, how to check, and more.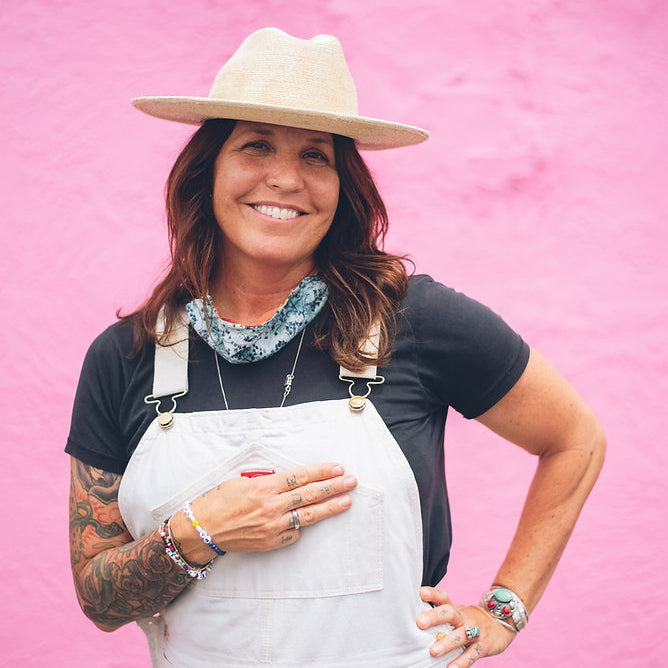 Versus x keep a breast tire
We partnered with Keep A Breast to create the first Limited Edition Collaboration Tire. Only 400 sets will be made. Each set includes a limited edition t-shirt and entry for our Keep a Breast giveaway bike.
2023 YT CAPRA - SIZE M
Versus x Keep A Breast Benefit Build
2023 YT Capra Core 2 ($3099 MSRP)
SpokeX Carbon Wheels w/custom painted spokes & i9 Hydra Hubs ($1475 MRSP)
5Dev R-Spec Trail Enduro Cranks ($549.99 MSRP)
5Dev 3 Bolt Titanium Chainring T Type ($199.99 MSRP)
5Dev All Around Pedal ($189.99 MSRP)
Magura MT7 Pro Brakes ($611.99 MSRP)
Aenomaly Switchgrade ($245 MSRP)
DEITY Components Racepoint 35 HBar 38 in KAB Pink ($89.99 MSRP)
DEITY  Components Copperhead Stem 35mm ($109.99 MSRP)
DEITY Components Speedtrap AM Saddle ($84.99 MRSP)
DEITY Components Lockjaw Grips ($27.99 MRSP)
Versus Tire Set ($160 MRSP)
Versus Black Gravity Tire Set (Spare / $152.50 MSRP)
Tannus Armour ($99.98 MRSP)
SRAM Transmission (Bike includes GX, not XO shown) ($1099 MSRP)
RideWrap Tailored Protection™ Frame Kit ($125 MSRP)
'23 YT Capra
Fast runs, wild trails, and memorable moments on every ride; that's what Enduro is about. Whether it's with a full-face helmet in the bike park, a half-shell somewhere above the tree line, or with a number plate in the start gate, the goal is always the same: GOOD TIMES.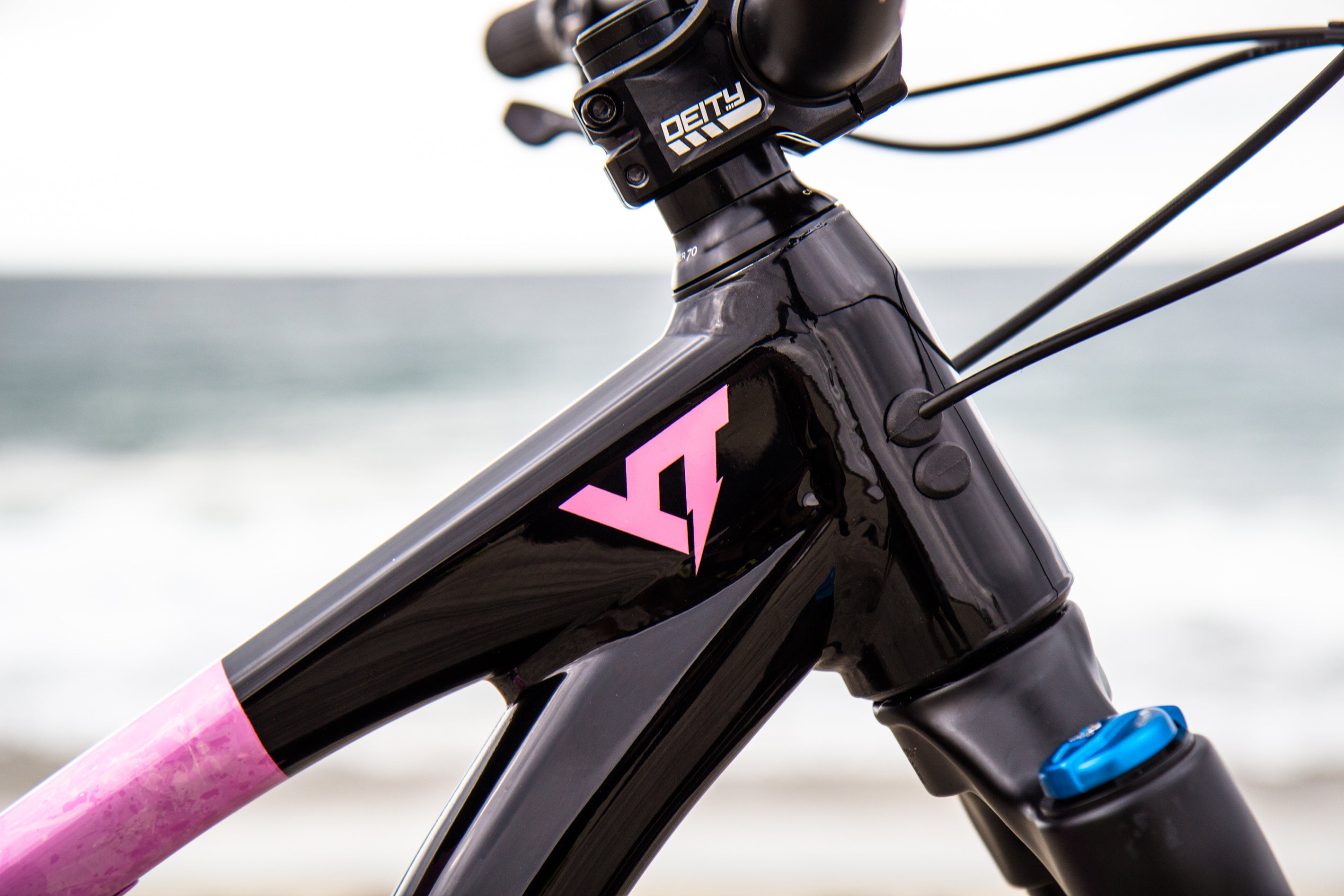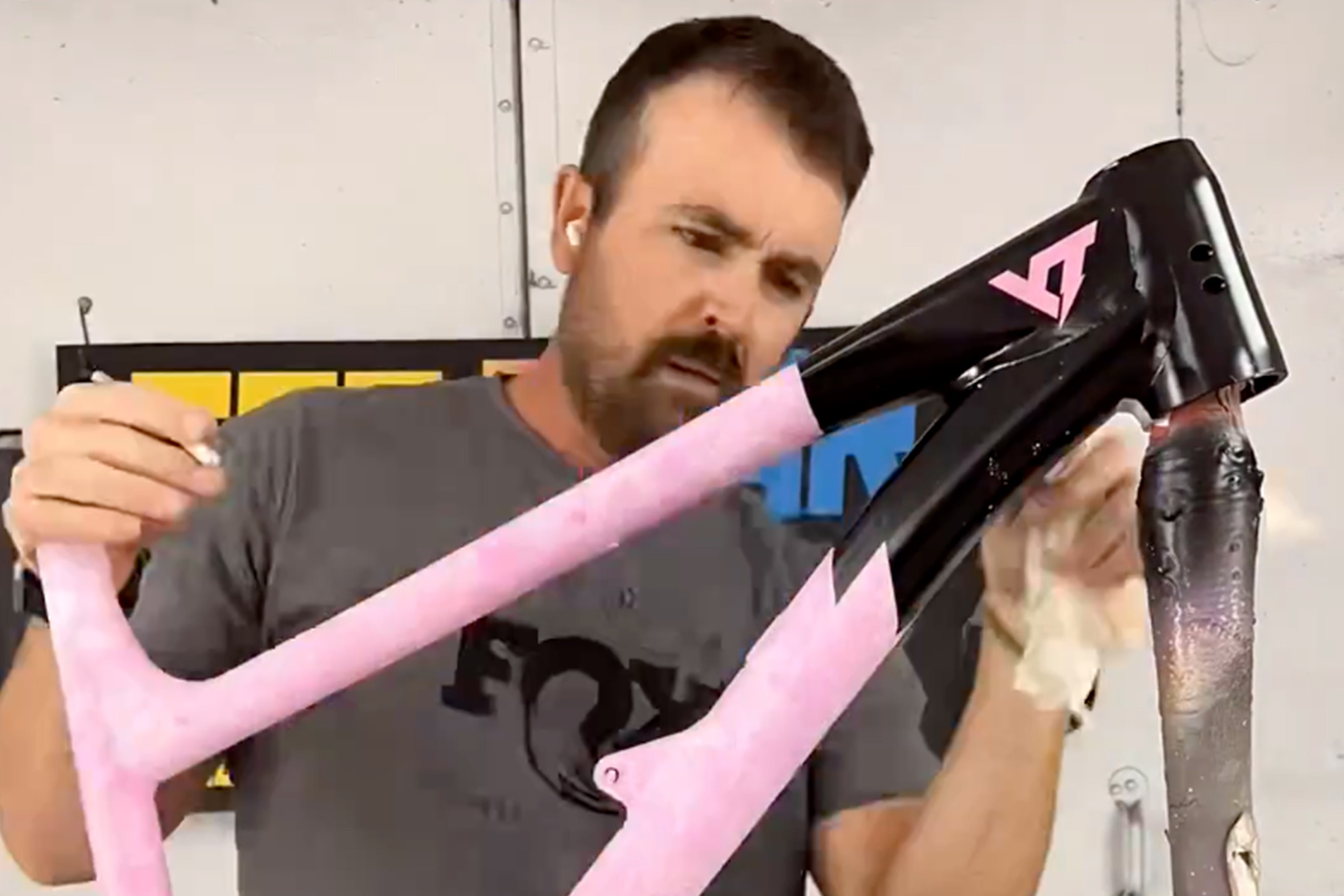 Tec Gnar
TecGnar was one of the first to join:"I'm in. Whatever you need, let me know."
His hydro-dip paint job is an
over-the-top showstopper with a finish that shines like a classic car.
You'll almost feel bad for getting it dirty. Almost.
5Dev Cranks + SRAM Transmission = GOLD
San Diego's 5dev was the only crank, chainring, and pedal choice for this whip. They're neighbors and friends who make truly drool-worthy products.
SRAM Transmission is the new standard for mountain biking. No derailleur hanger. No adjustment screws. Flawless shifting under maximum power.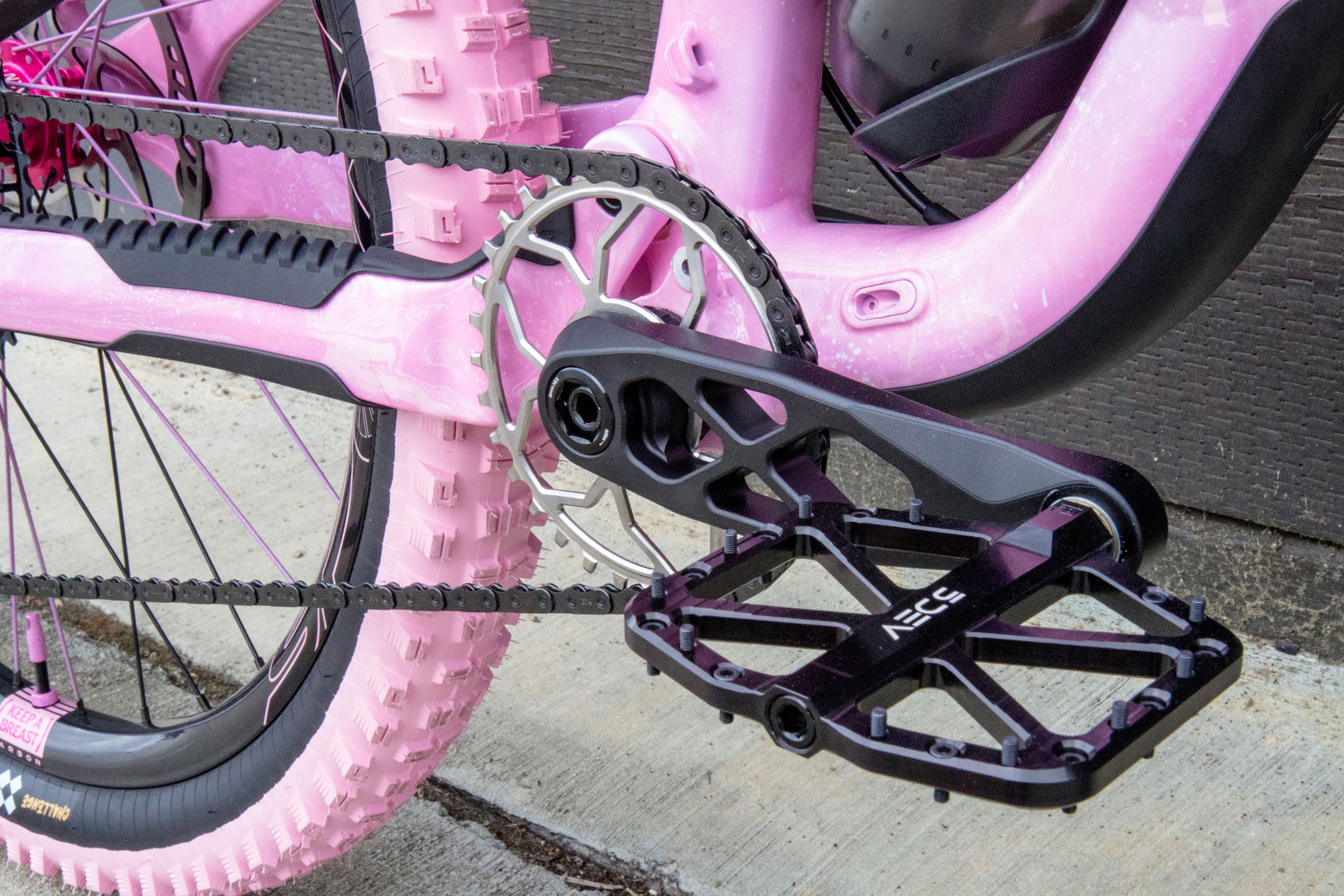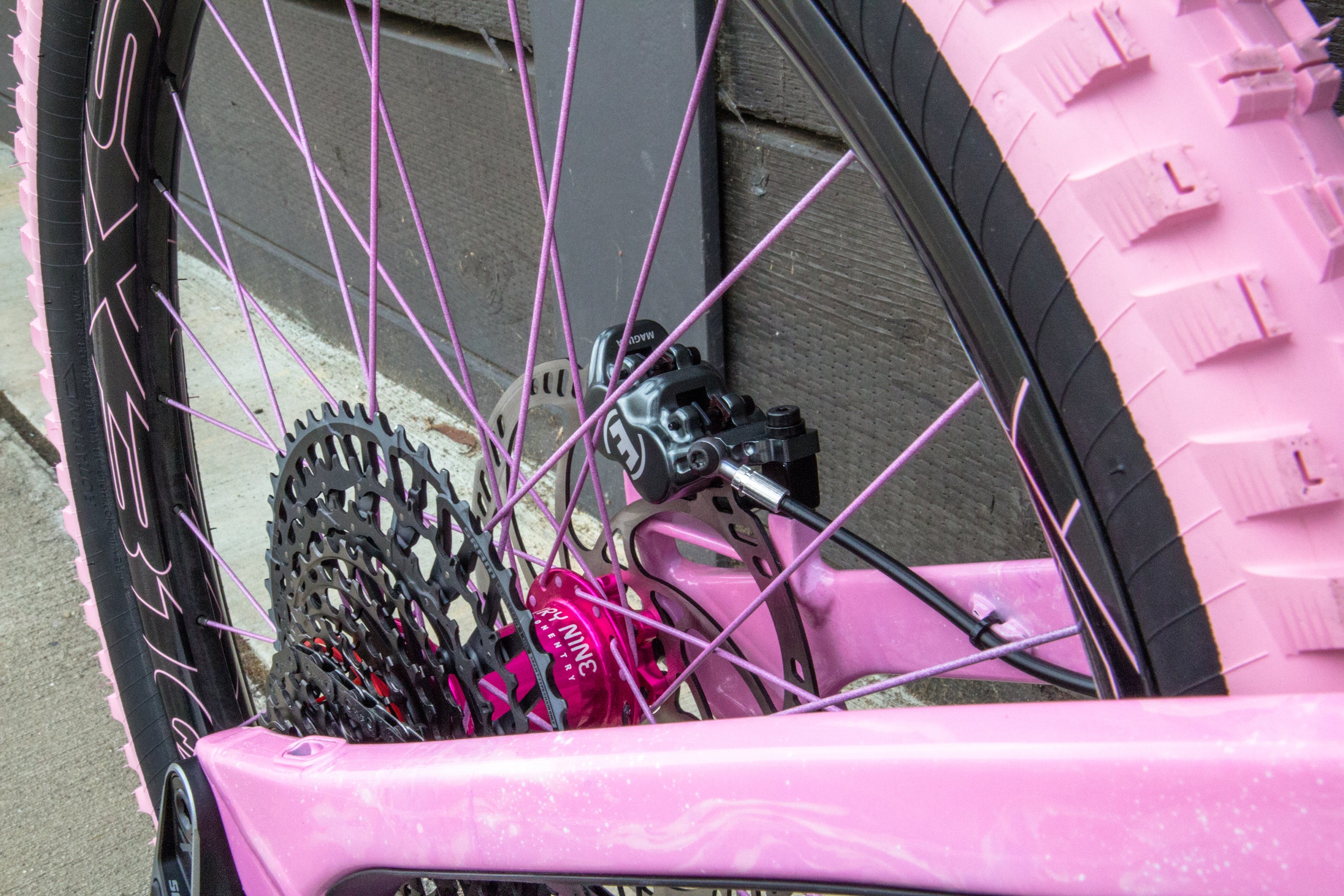 Spokex + Magura
SpokeX makes amazing wheels. We met Hunter at our first event at Vailocity Bike Park in 2021 and have been friends since. The SpokeX 310 keeps you ride-ready for the downs and party laps, while remaining lightweight for those pesky climbs.
Magura MT7 Pro 4-piston brakes provide the stopping power. We loved our MT7 on The Wreck and figured if they're strong enough to stop James Doerfling or Loic Bruni, they'll be strong enough for our dream build.
Tannus Armour is hiding inside, ready to fend off rock attacks and keep the bling wheels rolling straight.
DEITY Cockpit & saddle
DEITY jumped at the chance to provide our cockpit and saddle setup. Their custom pink Racepoint bar is one of the added details that elevates the dream build.
As a fellow 100% rider owned, operated, designed, and funded company built by riders for riders, they were an easy choice for our build.